The season of hot sunny days is upon us, and even though w love the new-found sunshine, we can't help craving for something refreshing! Our number one go-to drink during the summer are smoothies. Summer smoothies are as delicious as they are nutritious, and what's even better—they are super versatile! You can make a thousand possible combinations of the drink, guilt-free: it's filled with protein and sweet enough to satisfy all candy cravings. You can get it for breakfast, or any time of the day, really: here at Farina we are firm believers that smoothies make everything better. So without further ado, here are our favorite DIY summer smoothies recipes:
Strawberry-Kiwi 
Strawberry and Kiwi are hands down one of the best berry combinations of all time (yes, kiwi is a berry. Surprising?). We are living for this high-fiber smoothie recipe, which is filling and will help you stay fit and healthy all summer long with its large quantities of vitamin C. The banana gives it a nice kick, too!
To prepare this, you will need:
1¼ Cup – Cold apple juice

5 – Strawberries (Frozen, sliced)

1 – Kiwi (Sliced)

1 – Ripe Banana (Sliced)

1½ Tablespoon – Honey
Blend all ingredients until it's smooth.
Perfect Papaya
Summer is here and we want to feel like we are on a tropical island. If that sounds good to you too, try our recipe for this creamy smoothie that's made with the most delicious tropical fruits: papaya, coconut, pineapple. High in protein and deeply refreshing, the only thing that can make it better is to enjoy it next to your friends at the nearest beach!
To prepare this, you will need:
1 – Papaya (Chunks)

1 Cup – Fat-Free Plain Yogurt

½ Cup – Pineapple (Chunks)

½ Cup – Ice (Crushed)

1 Tablespoon – Coconut Extract
Combine all ingredients for about 30 seconds, or until smooth and frosty.
Just Peachy
This smoothie is just too good— healthy and yummy, it tastes just like ice-cream. Peaches and strawberries are the best possible combo (yes, I know what I said about strawberries and kiwi— but that was the best berries combination!), they are sweet and fresh together, and the yogurt makes it creamier and of course, yummier. If you want to pack even more protein, try adding some whey protein powder— no worries, the flavor will remain the same.
To prepare this, you will need:
1 Cup – 1% Milk

2 Tablespoons – Low-Fat Vanilla Yogurt

½ Cup – Peaches (Frozen)

½ Cup – Strawberries

2 Tablespoons – Whey Protein Powder

3 Cubes –  Ice
Combine all ingredients until smooth and frosty.
Mango Madness
If you are craving something a bit more stingy, try this sweet smoothie— mango is our favorite, but fresh lemon just adds something extra to this low-fat drink. This combination of mangoes and apricots is ideal for when you need a refreshing pick-me-up!
To prepare this, you will need:
6 (2 Cup, Approx.) – Apricots (Peeled and chopped)

2 (2 Cup, Approx.) – Mangoes (Peeled and chopped)

4 Tablespoons – Lemon Juice

1 Cup – Plain Low-Fat Yogurt

¼ Tablespoon – Vanilla Extract

8 Cubes – Ice
Blend everything except the ice cubes for 8 seconds. Then add the ice cubes and process 6 to 8 seconds longer, or until smooth.
Berry Good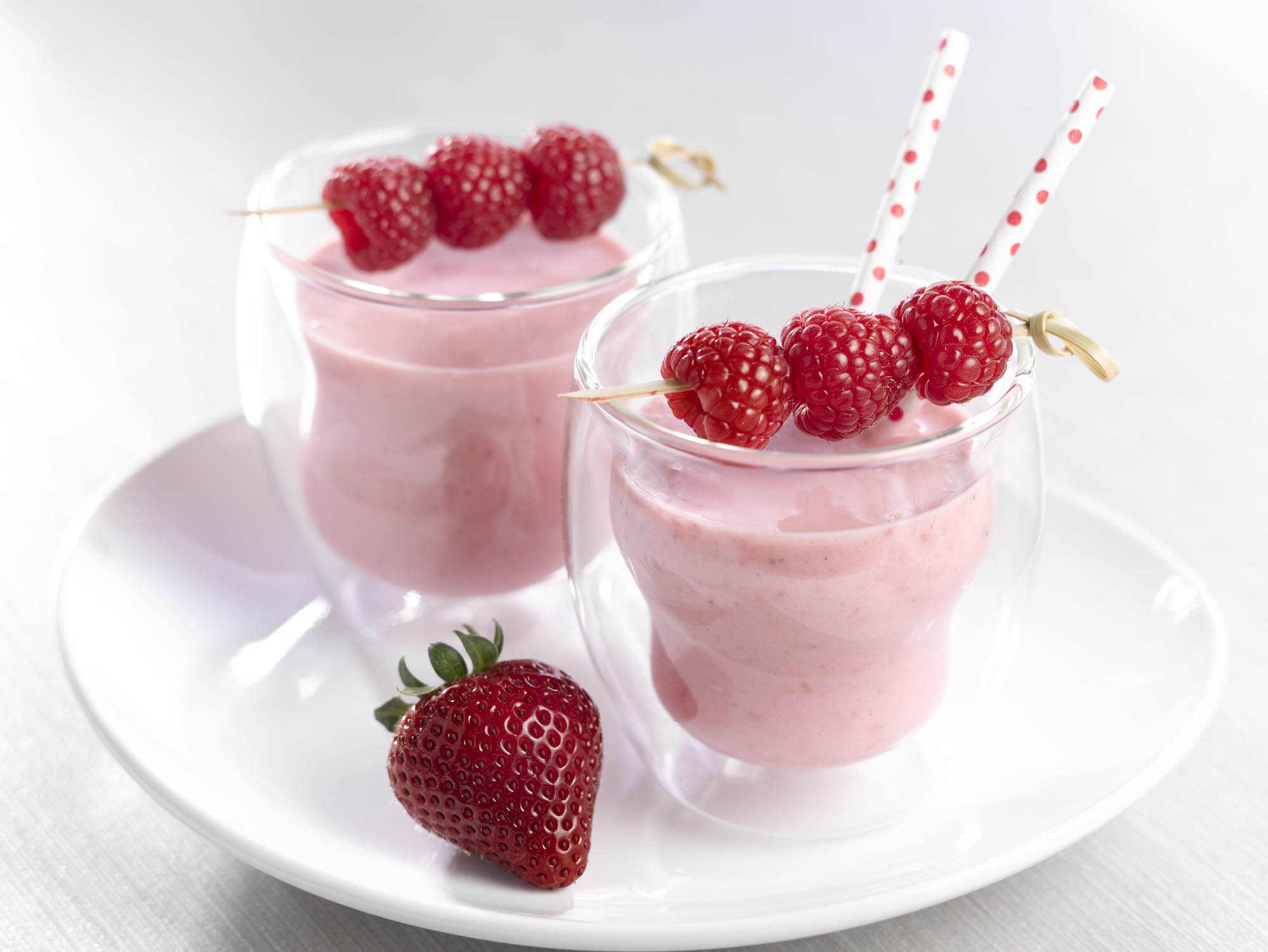 Strawberries, blueberries, raspberries. You can never go wrong with this classic combination of berries! Containing honey and lemon juice, this smoothie is sure to keep you safe from the late-night pool-induced flu with its powerful mix of vitamin C, fiber, and protein. Want to make it extra creamy? Add some low-fat plain or vanilla yogurt and get all the energy you need to enjoy every day under the sun.
To prepare this, you will need:
1½ Cup – Strawberries (Chopped)

1 Cup – Blueberries

½ Cup – Raspberries

2 Tablespoons – Honey

1 Tablespoon – Lemon juice

½ Cup Cubes – Ice
Blend all ingredients until it's smooth.
Do you still want more ideas for healthy yet easy to make treats? Check our vlog for more easy healthy snack ideas and don't forget to subscribe to Glam & Gowns' YouTube!
So there they are, or favorite DIY Summer Smoothies! Do you have a favorite go-to recipe? Please share it with us by tagging us on Instagram @glamandgowns, and Faviana's Instagram @Faviana_NY and Twitter @FavianaNY. Also, don't forget to subscribe to our Youtube channel for more fun vlogs @FavianaNYC!
xo,
Andrea