If you are the type of person who loves to preserve memories for as long as you can hold on to them, you have come to the right place! Whether you are about to get married, go to prom, or any other special occasion, preserving your corsage of flowers is a great idea to be able to have an item attached to that special day forever. There are many ways you can preserve your corsage, and which one will be most efficient depends largely on which type of flowers you use, as well as the style of it. If you want to try this out, keep reading!
Preserve Your Corsage: Option 1, Dry it
This might be the easiest method. Simply wrap a rubber band or tight cord around the stems of the flowers, just under the blossoms, and hang the whole thing upside down in a place in your home that is dark and dry. Wait a couple of days and you will find that the flowers will be completely dry. You can preserve them like this forever, but they will become quite fragile, so be mindful to place your arrangement in a pretty box or exhibit it in a place where not many people will touch it.
Option 2, Spray It
This method is also quite simple. To preserve your corsage, you can just spray it with abundant hair spray! Go outdoors, hold it away from yourself and spray with aerosol hair spray. The results might not be perfect, but it will help to stop the flowers from wilting. Once again, make sure to store the flowers properly once sprayed.
Option 3, Gel It
Photo Credit: floralsand.com
This method requires a little more preparation but will assure that your flowers look intact forever. Buy silica gel at a crafts center or flower store and fill a plastic container about half-way with the gel (make sure the container is big enough to fit the corsage). Remove any damaged leaves and petals from your corsage, put it inside the container and cover it completely with the gel. Close the container and place it in a dark and dry spot for around three weeks. When you get them out, shake out the excess gel and spray with some hair spray to ensure they remain dry.
Option 4, Press It
Place a cardboard on a flat surface and cover it with four newspaper sheets and one sheet of tissue paper on top of the newspaper. Put your corsage on top of the tissue paper, carefully spreading the flowers apart so no flower is on top of another one. When you are done, put another sheet of tissue paper on top of the corsage, with another four sheets of newspaper on top of the tissue paper. Cover all of it with another piece of cardboard. To finalize, stack some heavy books on top of the cardboard, right where the corsage is. Wait three weeks to see if they are completely dry, if you see that some flowers are still damp cover it again and wait a week more.
Option 5, Exhibit It!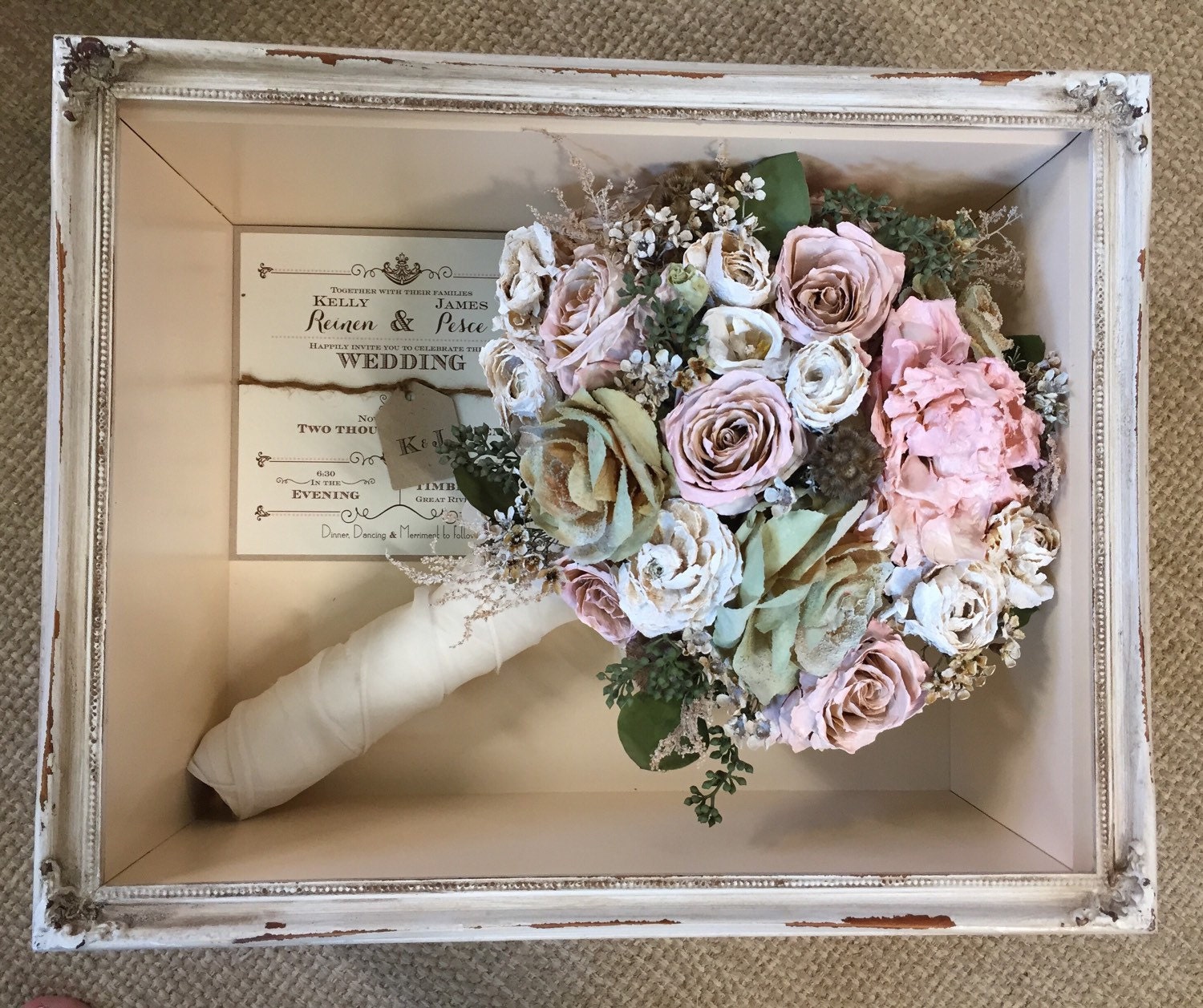 Photo CreditL firsttimethings.com
Once your flowers are ready and preserved, you can exhibit them so everyone can see their beauty and you can relive your favorite moments every time you see them around your home.
Simply buy a shadow box in your favorite color (or you can customize it and paint it yourself to match the color of your flowers) that is around 11×14 or 16×20 (depending on the size of your corsage). Place your corsage inside of it, adding other small memories as well, if you prefer, such as the wedding or prom invitation, a picture of the day, your favorite poem, a nice piece of fabric or ribbon from your dress, or any other special memento to remind you of this day. Lastly, hang it on your favorite wall and enjoy it for the years to come!
So here are some of the ways in which you can preserve your corsage! Do you have a favorite one? Have you tried one yourself? Let us know by tagging us on our Instagram @glamandgowns, and Faviana's Instagram @Faviana and Twitter @FavianaNY. Also, add us on Snapchat @faviana_ny to learn all about the Faviana lifestyle.
XO,
Andrea